WFS Designer is an open-source, cross-platform application for performing wave field synthesis with large speaker arrays.  In contrast to other wave field synthesis applications that provide a top-down 2D view of the audio scene, WFS Designer allows positioning of virtual sources in a full three-dimensional space. Loudspeakers are often arranged in a horizontal line for WFS configurations. In order to position a virtual source in the vertical dimension, however, the loudspeaker array must be split into at least two rows at different heights.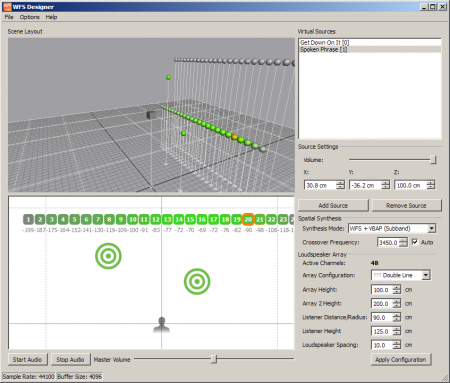 Download
WFS Designer source and binaries are hosted at GitHub:
https://github.com/mmontag/WFS-Designer
More Information
The theory and operation of WFS Designer is described in detail in my master's thesis:
Modular Loudspeaker Array
I constructed a 48-loudspeaker modular array to test the proposed system. The details of the array are documented in the thesis and photos are posted at Wave field synthesis build progress.
Early plans for the loudspeaker module. Twelve were built.